Mom's Question:
My 11-month-old has red bumps on her face and legs. After a couple of days, they turn into sores. I took her to the doctor, he thinks they're mosquito bites, but I think different, help?
Renee
---
Baby Helpline:
Red Bumps On Baby, But Not Mosquito Bites…
Babies can get rashes and red bumps for all sorts of reasons; food reactions, viruses, detergents…
Funny, when my oldest son was 1.5 years old, he got red bumps and we went to the doctor – who said it was mosquito bites. We knew it wasn't!
It turned out to be chickenpox. Chickenpox usually starts around the neck and then spreads towards to feet and hands. Some children even get them in their palms and under their feet. They often itch a lot. The younger the child, the less severe is usually the illness. Some babies only get a few blisters and that's it.
Have a look at the picture below. It shows a typical chickenpox blister. It is kind of white in the middle and red around. Then it itches and dries up. Maybe it is not at all relevant for your baby, but your description somewhat matched the symptoms of chickenpox, so I wanted to show you one. :-)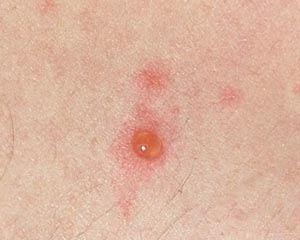 Unless the bumps disappear to never come back, I think you should take your daughter to another pediatrician for a second opinion. The rash could be a dry rash, allergy, eczema, food intolerance, or something else. Someone has to see it and listen to you. If you know the bumps are not mosquito bites, then they're not!
Sorry for not being able to be more specific, but it isn't possible to know what these bumps might be without seeing them.
Hope this helps,
Paula
More On Baby Rashes
Find comments below.
Comments for "Red Bumps On Baby's Face And Legs"
We have changed to a new commenting system. Add your comments below.