Mom's Question:
Our baby has a round rash on her bum. It started to show when we had to give her amoxicillin for her ear. We don't have animals, and she has not been playing in the soil. I took her to the follow up with the doctor, and I showed him the rash. All he said just to watch it.
It looks like ringworm, but my husband and I don't have it and we touch it. I looked up ringworm and the system, and the picture. It doesn't look like it or the system doesn't match. Please look at the picture of her rash. Can someone please help us?
Jennifer Marie Brown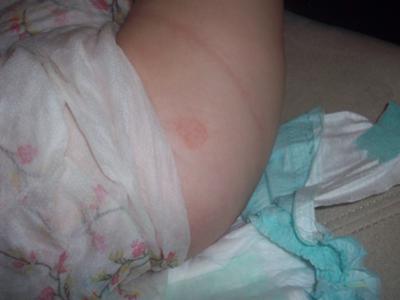 Pin
The Rash On My Daughter's Butt
---
Baby Helpline:
Rash On Baby's Butt – Ringworm, Eczema, Diaper Brand Or What
This was a tricky rash! I too wondered about ringworm, but I can't see it closely enough (thanks for the photo!).
I also considered allergies, but then usually the rash would show up on the tummy, or face or be more widespread. Just a spot like that on it's own is probably not an allergy. However you could just think back if she is eating anything differently, my daughter kept getting a rash on her neck and it turned out to be an allergy to eggs.
Another possibility is some sort of fungus, especially since your daughter has been on antibiotics.
Have you changed her diaper brand or type recently? Since the rash is local to the diaper area, trying a different diaper brand or type could be worth a try.
If it is annoying her or you are worried, get a second opinion. But children get all sorts of little skin conditions and they usually are nothing to be concerned about and go away on their own. I would take the advice of the doctor and just keep an eye on it. Probably letting your daughter air her bottom off is a good idea, when they are
constantly in diapers, it is a warm humid environment that makes healing slower.
Good luck!
Paula
Hey parents, if any of you have a similar experience, please share your thoughts on what this can be!
More On Baby Rashes
Comments
We have changed to a new commenting system. Add your comments below.