Ringworm, diaper rash, fungus, or a reaction to something in certain types of diapers… What started as a simple question from a mom about a round rash on her baby's bum triggered a huge number of comments and concerns from parents experiencing the same.
We look at possible reasons for the round rash and also dive into the parents' discussions and experiences.
Pin
---
The Mom's Original Question:
Our baby has a round rash on her bum. It started to show when we had to give her amoxicillin for her ear. We don't have animals, and she has not played in the soil. I took her to the follow-up with the doctor, and I showed him the rash. All he said was just to watch it.
It looks like ringworm, but my husband and I don't have it, and we touch it. I looked up ringworm and the system, and the picture. It doesn't look like it, or the system doesn't match. Please look at the picture of her rash. Can someone please help us?
Jennifer Brown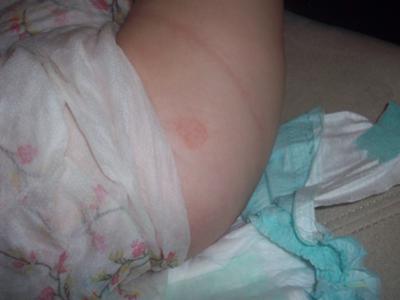 Pin
The Rash On My Daughter's Butt
---
Circular Rash On Baby's Bum – Ringworm, Eczema, Diaper Brand Or What
This was a tricky rash! I, too, was thinking about ringworm, but I can't see it closely enough (thanks for the photo!).
I also considered allergies, but then the rash would usually appear on the tummy or face or be more widespread. Just a spot like that on its own is probably not an allergy. However, you could just think back if she is eating anything differently; my daughter kept getting a rash on her neck, which turned out to be an egg allergy.
Another possibility is some sort of fungus, especially since your daughter has been on antibiotics.
Have you changed her diaper brand or type recently? Since the rash is local to the diaper area, trying a different diaper brand or type could be worth a try.
If it annoys her or you are worried, get a second opinion. But children get all sorts of little skin conditions, and they usually are nothing to be concerned about and go away on their own. I would take the advice of the doctor and just keep an eye on it. Probably letting your daughter air her bottom off is a good idea. When they are constantly in diapers, it is a warm, humid environment that makes healing slower.
UPDATE – Parents' Experiences of Circular Diaper Rashes
After this Q&A was first published, many parents commented with similar circular rashes in their babies' diaper areas. A number of possible reasons have been discussed:
1. Rashes related to certain diaper brands
If you read the comments below, you'll find many parents experiencing that certain diaper brands are causing round rashes on their babies' bums. However, babies using several different brands experience these rashes, so there is no evidence that any certain diaper brand would be a problem. However, changing to another brand may solve the problem in some cases. Some babies may be sensitive to something in one diaper brand but not in another one.
2. Rashes related to certain types of diapers
You will also notice that the babies in the comments below mostly use disposable diapers. Yet, the rashes also occur in potty-trained children and babies using cloth diapers.
3. Ringworm
Ringworm is often mentioned, and this is probably the case for some babies. Ringworm is a type of fungal rash, and the name comes from the circular form of the rash, not because some worm causes it. However, ringworm is contagious and usually itchy, which does not fit the symptoms for many of these babies. Often, the circular rash also has clearer skin in the middle, which does not fit the circular rash for all babies in the thread.
4. Pityriasis Rosea
Pityriasis rosea is mentioned a few times. This skin condition is harmless and temporary and can resemble ringworm. However, it is rare for babies and toddlers to get this.
5. Granuloma Annulare
Someone also mentions a granuloma annulare. This is rare among infants but otherwise relatively common and benign.
6. Disposable diapers that are "too effective"
Another discussed possibility is that many disposable diapers are a little bit too effective in sucking up moisture, so a sensitive baby's skin can become too dry, and a circular eczema is developed.
Takeaway
These are some of the possible reasons for a round rash on a baby's bum that are discussed in the comments below. In many cases, trying a new diaper brand, treating the diaper rash with an appropriate ointment, changing diapers often, and letting the baby kick without diapers often will solve the problem. However, this is not helping in all cases, and if your baby's circular rash does not disappear within a reasonable time or your baby seems to be bothered by it, the best you can do is to show the rash to a doctor for assessment.
Good luck!
Paula
Parents, if any of you have a similar experience, please share your thoughts on what this can be!
More On Baby Rashes
Research references
Paula Dennholt founded Easy Baby Life in 2006 and has been a passionate parenting and pregnancy writer since then. Her parenting approach and writing are based on studies in cognitive-behavioral models and therapy for children and her experience as a mother and stepmother. Life as a parent has convinced her of how crucial it is to put relationships before rules. She strongly believes in positive parenting and a science-based approach.
Paula cooperates with a team of pediatricians who assist in reviewing and writing articles.