Celebrity Cruises
by Rob
(Maryland)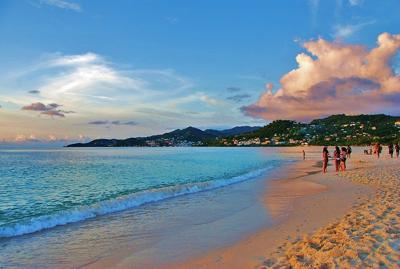 A Caribbean Beach
My favorite baby friendly spot was on a Celebrity cruise three summers ago. My husband, three year old daughter, 14 month old son, and I, all went on a Celebrity cruise with my mother and father in law.

It traveled all around the Caribbean for a week, and before we were getting ready to leave I began to worry about what I was going to do with my children during the excursions and time on the boat.

When we got on the boat I talked to the activity director and he referred me to the 'Kids Camp'. I went and talked to the workers there and they told me what they would do with the kids and how it all worked.

The Kids Camp was pretty much a daycare for kids of all ages and all you would do was drop them off at the camp in the morning, and then you would have the rest of the day off for yourself.

It was free, and when I came back and saw how much fun my son and daughter were having with the counselors there, I decided that they were probably having more fun with them than they would have with us.


---
Family Cruises - A Great Vacation With Young Children
Editor:
Thanks a lot for the tip on going on a cruise with a baby/toddler. Sounds like a great vacation!
If anyone else is considering a cruise,
here is the link to Celebrity Cruises kids' program (and to their website)
Also take a look at the video below, where a mom is on a Celebrity Cruise to Bermuda and shares her tips for family cruises.
Here is another family cruise review - this time with Disney Magic Cruise.
If you have been to a family cruise too, please share your experiences below.
You'll find comments to this baby vacation tip below.
---
Find more Baby Friendly Vacation Tips here:
comments powered by
Would other parents find this valuable? Share it!
---
What baby info are you looking for?