18 Weeks Pregnant (Fetal Age 16 Weeks)
Your baby is gaining weight quickly and you are likely to be very hungry
17 weeks pregnant
19 weeks pregnant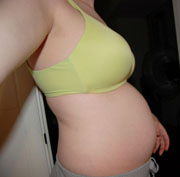 18 weeks pregnant, some more of your baby's newborn reflexes are being developed, such as trying to suckle if you would touch his/her lips.

For mom, it might be time for an ultrasound examination. Maybe the first time that you will lay your eyes on your baby, or at least the first time you will actually be able to see your baby in any detail... If you are curious on how your baby is developing, you can watch some fetal development videos here.



What To Expect During Pregnancy Week 18
---
Your Baby
Your baby is growing (this week too)! He/she is more than five inches long now and probably weighs about five and a half to about six and a half ounces. Weight has doubled since last week! But from now on, the growth rate will slow down a bit.

Full movement of the arms and legs has been discovered and believe me your child will use them!

You may be feeling motions pretty consistently; your little has grown large enough now. If this is the first time you are pregnant, however, it may still take a couple of weeks until you are certain that the butterflies you feel in your stomach are actually messages from your baby.

Whether you feel it or not, your baby is twisting and rolling around. He/She has even mastered the yawn. :-)

Your child's nervous system is in a rapid maturing phase and should be in working order by now. Nerves are developing and are now surrounded by myelin that allows the nerve cells to exchange signals.

Week 18 of pregnancy is the last week of the critical development phase of your baby's brain, which started back in week 12. Next phase will begin in week 24. Although the ears may still appear to be sticking away from the head they are in position. Hearing has become a little more sensitive now. Not only are sounds from outside of the womb being heard, but internally as well.

The eyes are looking straight ahead. Studies have shown that at 18 weeks pregnant, the fetus is starting to become sensitive to light. For example, if you spend time in a solarium (not recommended!), your child will turn his/her back against the light.

18 weeks pregnant, your doctor should be able to tell the sex of your child. If you are expecting a girl her fallopian tubes and uterus are in place. Should your child be a male his genitals are developing and visible in an ultrasound if he does not hide them.

Do you want to know the gender of your baby? Share you opinion in our baby gender poll here.
---
Mom's Body
Vote in this pregnancy body changes poll and find out what is happening to other pregnant moms' bodies.)

An increase in hunger is expected... you are eating for two. But remember that those two are you and a still tiny little friend of yours. A huge calorie intake will put weight on your body, not your baby's - guaranteed! (Sorry!)

Try to focus appetite towards foods that are high nutrients. Foods such as a pint of New York Super Fudge Chunk, Cheetos, chili cheese dog from Ron's Hotdog Stand around the corner, etc, although may sound good are not exactly the healthiest of foods.

Vegetables and maybe a grilled chicken breast are better for both you and your baby. And one small piece of chocolate... ;-D

To learn more about what recent research teaches us about healthy eating during pregnancy, click here.

In many places an ultrasound examination is offered at some point between week 18 and 20 of your pregnancy. Now your baby has grown so much that an ultrasound can be used to really check that your baby is developing normally. Congenital birth defects, multiple pregnancies, growth, due dates, gender and placental position can all be checked at this point in time.

Comfort is a must when 18 weeks pregnant. Your tummy is growing larger. Therefore more baggy clothing may work better for you.

Also find a comfortable way of lying on your side. Ideally, you should be sleeping as much as possible on your left side. That will maximize blood flow and nutrition to your uterus and baby.

By lying on your back, the uterus can fall back and possibly apply undue pressure on a vein. Some moms almost faint if they lie down on their back or at least they become very uncomfortable and dizzy. At this point your cardiovascular system is already going through changes to accomodate your pregnancy, so don't put extra pressure on your system by lying on your back.

You may be experiencing dizziness from time to time. As long as this does not occur too frequently you should be OK. Should it occur often maybe discuss it with your doctor. Going from a sitting or laying down position to a standing position should be taken slowly. This will help with your dizzy spells.

You may start to notice unusual marks and/or spots on your skin. Do not panic. These are only temporary. If they appear to be abnormally irritated, talk with your doctor. You may take precautions such as wearing a hat that covers your face while in the sun, sunscreen and clothing that keeps your skin hidden from the sun will help. If you are in the sun try to stay shaded as much as possible.
---
18 Weeks Pregnant Video
If seeing means believing for you; watch this video explaining the 18th week of pregnancy in pictures and words.
---
Stuff To Buy This Week
Here are a few things you can get to support your pregnancy journey this week:

---
Diary of a Daughter
What's it really like being 18 weeks pregnant...? Here's a true diary from a 18 weeks pregnant mom-to-be. (Me..!)
Diary Of A Daughter
Now even my hubby can feel our baby's kicks through my skin. Wonderful! I think we have a very active (and strong!) baby in there.
Otherwise this has been a calm week. My baby bump is growing.
The above was my diary. What's it like for you to be 18 weeks pregnant? Share your thoughts and feelings by leaving a comment below.
---
---
Would other parents find this valuable? Share it!
17 weeks pregnant
19 weeks pregnant
---
Related Content
References:
MayoClinic (2011), Mayo Clinic Guide to a Healthy Pregnancy
Joanne Stone MD and Keith Eddleman MD (2008) The Pregnancy Bible: Your Complete Guide to Pregnancy and Early Parenthood
Nilsson, L; Hamberger, L. (2004) A Child Is Born.
Soderberg, L. (2010) Mammapraktika. B Wahlstroms.

More About Your Pregnancy
Pregnancy Weeks
More Pregnancy Articles
---
What baby info are you looking for?